— Sponsored Content —
A giant eye wanders around the table, held aloft in its hand-shaped head atop a body "shaped like [a] plumber's friend," gazing at the various sapiens who have gathered to witness its travels. Gracefully it glides across the paper, doing the dance designed for it by the colorful lines upon the page, and upon reaching the color combination designated "Stop," it obeys. It's then plucked up, turned off, and has the Tralfamadorian costume taken off so the Ozobot within can be returned to its charger.
To see an alien that looks like a combination of arm, face, and plunger follow a maze made by markers, fly by WonderLab After Dark: The Science of Vonnegut on Thursday, May 9, from 6 to 9 p.m. WonderLab will be contributing to the 2019 Granfalloon: A Kurt Vonnegut Convergence, the second annual spring festival of music, literature, and art hosted by the Indiana University Arts & Humanities Council to celebrate Indiana's most famous science fiction writer, Kurt Vonnegut.
"We see WonderLab After Dark: The Science of Vonnegut as Granfalloon 2019's inaugural event," says Joe Hiland, associate director of the IU Arts & Humanities Council. "We are excited to see people whose academic and scholarly focuses are primarily literary interacting with the scientists at WonderLab and broadening their horizons. That's really what Granfalloon is all about."
The second annual Granfalloon in Bloomington, from Thursday, May 9, through Sunday, May 11, features keynote Vonnegut scholars, academic panels, and musical performances headlined by indie rocker Neko Case. WonderLab is proud to contribute to such an event, as it is nearly impossible to discuss Vonnegut without discussing science.
"Vonnegut was one of the most prolific science fiction writers of the 20th century," says Sarah Wells, WonderLab's adult- and secondary-education specialist. "Here at WonderLab we want to take this chance to look at the science that that fiction is based in."
Investigate how artificial intelligence and humans interact based on "EPICAC," a story named for the computer that is the main character.
"I don't want to be a machine…. I want to be made of protoplasm and last forever so Pat will love me. But fate has made me a machine. That is the only problem I cannot solve. That is the only problem I want to solve. I can't go on this way." —EPICAC
Other Vonnegut-inspired activities at WonderLab After Dark: The Science of Vonnegut include:
Observing c

rystal formation inspired by Ice-9 from Cat's Cradle.
Using Ozobots to recreate Tralfamadorians from Slaughterhouse Five.
Exploring the chemistry of paint and paper inspired by Bluebeard.
Food for the evening is provided by HIVE. Drinks will be provided by Upland Brewery, all free with museum admission. Cash bars will be stocked by Switchyard Brewing, Oddball Fermentables, and Friendly Beasts Cider Company.
WonderLab is partnering with IU Arts and Humanities Council on this Granfalloon event. WonderLab After Dark is sponsored by Griffin Realty as well as Mira Salon and Spa.
WonderLab After Dark: The Science of Vonnegut is an event for people age 21+. Tickets cost $15 for members and $18 for non-members, available at wonderlab.org. Tickets will also be available for $20 at the door.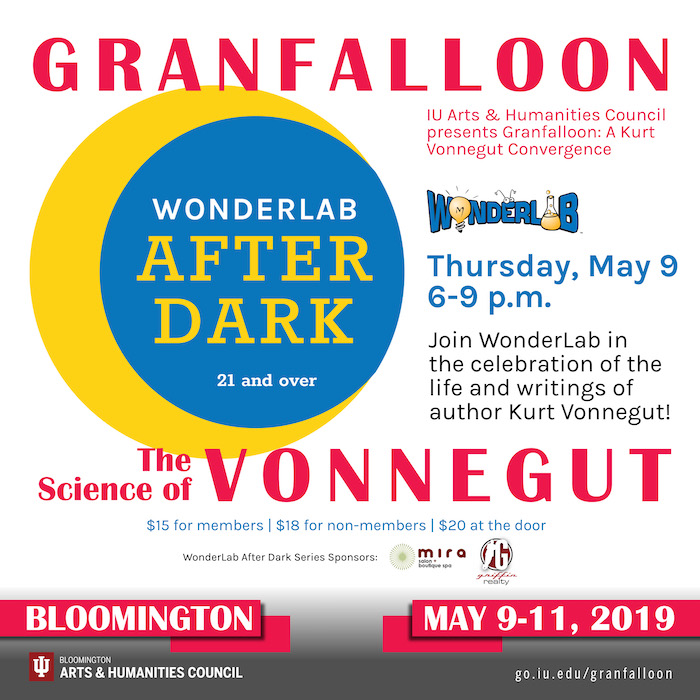 — Sponsored Content —