— Sponsored Content —
In Bloomington it's hard to walk a block downtown without seeing a bar. Pubs, breweries, and bars feature drinks from all over the world. Just within walking distance of the Courthouse Square, there are at least ten watering holes catering to anyone from sports fanatics to martini lovers.
On May 18, WonderLab Museum of Science, Health and Technology invites anyone age 21 and over to explore the science behind Bloomington's brew culture with WonderLab After Dark: Beers & Brews. Sample, drink, and explore local libations from IPAs to ciders while learning about the science behind brewing and yeast.
Upon entry, each guest will be given a "Beer Passport" listing the various brews featured at six different stations. At each one local brewers will discuss their specific style of drink and its history, and will also offer a hands-on brewing activity. Guests will get free samples of the drinks, see the raw ingredients used to make that beer, and receive a passport stamp. Those who have earned every stamp possible by the end of the night will be entered to win a prize. Beer, cider, and mead will also be available for purchase at the activity stations.
"I used to work as a tour guide at a craft brewery," says Jared Katz, WonderLab Museum Educator. "The downside to brewery tours is that after you have seen a few, they become repetitive. I wanted to avoid this at Beers & Brews, and decided to focus on different styles of beer, cider, and mead. Brewers will talk about the different specific styles and describe what makes them unique. For example, Upland will be discussing their lager and The Tap will be talking about their IPA."
Alcoholic beverages have become such a part of our daily lives that it can be easy to forget just how much science goes into their creation. As the event organizer, Katz finds the brewing sciences fascinating.
"The fermentation of alcoholic beverages has a long and interesting history," says Katz. "More recent laboratory techniques have allowed brewers to measure and quantify every aspect of beer, such as International Bitterness Units (IBUs), and help them to analyze the health of their yeast strains."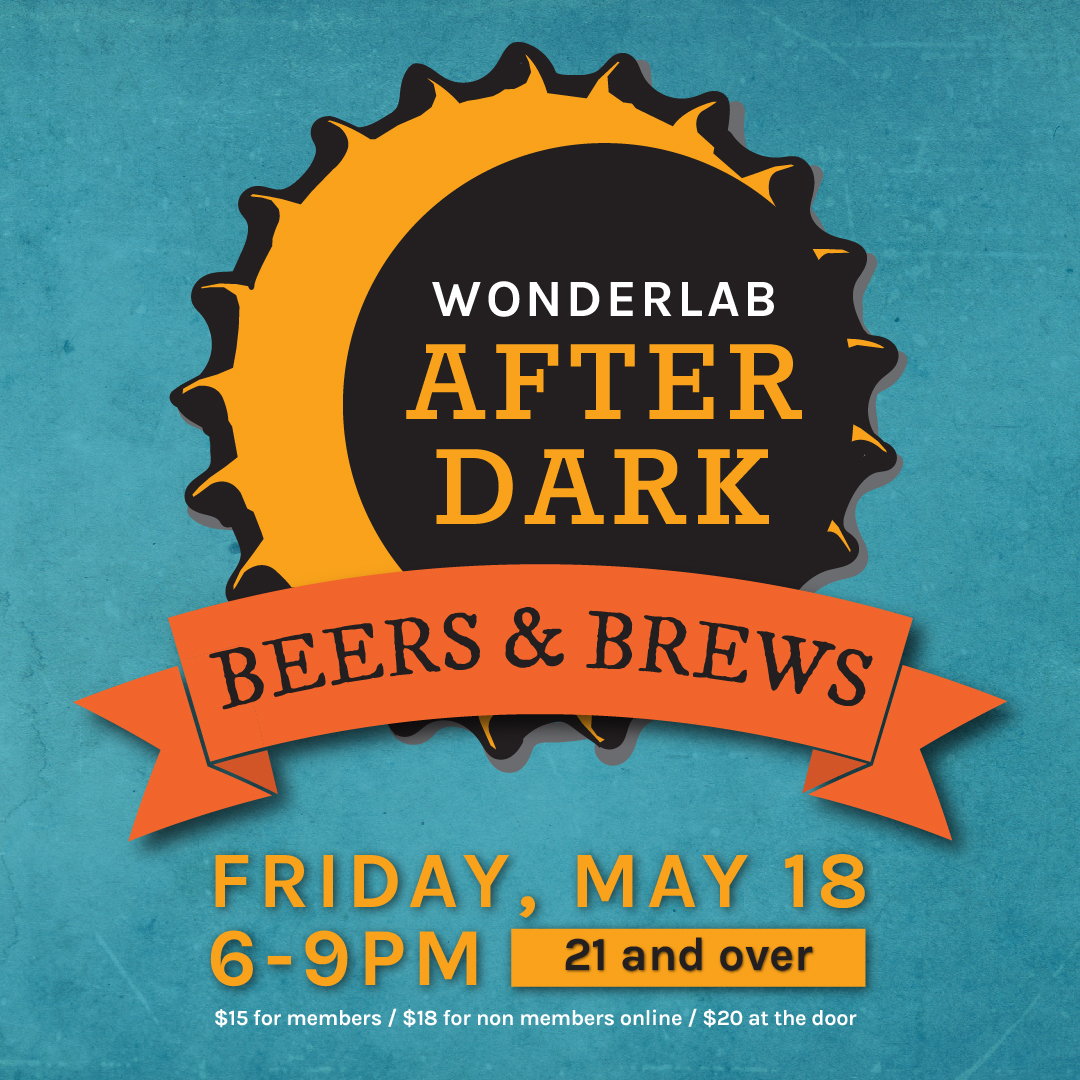 Alcohol can be made from just about any plant or plant matter, including grains, fruits — even cacao beans can be made into alcohol, which is how chocolate was discovered and was discussed in "Science for Grown-ups: Indulge in the Study of Chocolate at WonderLab After Dark." It doesn't have to be just plant matter, however. Mead, for instance, is one of the oldest alcoholic drinks still common today and is made from fermented honey.
Why is alcohol made from so many different ingredients? It turns out, ancient humans got tipsy by consuming fermented fruits and grains and discovered the science of brewing in different ways using a variety of materials. According to a National Geographic article written by John Roach, residue extracted from 9,000-year-old Chinese pottery hints at alcohols made from rice, honey, grapes, and hawthorne. Atlas Cider's "Hard Cider 101" speculates that people began drinking alcoholic ciders in what is now England as early as 55 BCE. Yet despite the wildly different formulas, many alcoholic drinks share many things in common.
"All alcoholic beverages rely on the same underlying process," says Katz. "Yeast breaks down sugar and converts it into alcohol and carbon dioxide. The source of that sugar impacts the beverage. For example, beer primarily relies on sugar extracted from malted barley, whereas mead relies on the sugar from honey."
Yeast is an important ingredient for many fermented drinks. Despite ancient brewers not knowing about these microorganisms, yeast has been integral to the brewing process since the beginning. Writers at the magazine All About Beer say that yeast is added to the sugar-rich mix of ingredients and feeds on the sugars, producing yet more yeast. More important than the amount of yeast, however, is the waste it produces: ethanol and carbon dioxide, making the drink alcoholic and fizzy. Different strains of yeast are used to produce different results, making them doubly important to the creation of specific brews.
During WonderLab After Dark: Beers & Brews, guests will have the opportunity to explore this process and the different strains used in the "Science of Yeast" research station. Wild Pitch Yeast, a company that creates and hunts for strains of yeast compatible with brewing, will have an activity station to show how yeast is harvested and used. They will even gather a yeast strain they find at WonderLab to show to guests.
"Yeast is essential to the brewing process, and maintaining healthy yeast strains is an important part of brewing," say Katz. "It is possible to reharvest a yeast strain after brewing, and then use the second generation of that strain in a latter batch. If a brewer uses an unhealthy yeast strain, though, it has a negative impact on the product."
Danny Boy Draft Works will be at the event discussing one of their signature beers. Brewers from The Tap will feature a delicious IPA, while Upland Brewery will provide a lager. Oddball Fermentables will delve into the science of making mead, and the folks from Friendly Beasts will discuss hard cider production.
From 6:45 to 7:30 PM, there will be an Ask Me Anything (AMA) in the Labs upstairs in which guests can ask representatives from some of the breweries and Wild Pitch Yeast about their experiences and knowledge on the topic of brewing. From 7:45 to 8:15 in the same labs, there will be Beer Trivia. The winners of the trivia contest will win tickets to the next After Dark event.
WonderLab After Dark: Beer & Brews will take place at WonderLab on May 18 from 6 to 9 p.m. Advance tickets will cost $15 for members and $18 for non-members and are available at wonderlab.org or at the museum Visitor Services Desk. Day-of tickets will be available for purchase at the door for $20. Ticket price includes museum admission, activities, samples, and pizza from Pizza X. Each brewery station will also serve as a cash bar.
The 2018 WonderLab After Dark Series is sponsored by Griffin Realty and Mira Salon & Spa. To learn more about WonderLab After Dark: Beers & Brews, go to WonderLab Science Museum on Facebook. For other fun science facts and information about WonderLab's adult programs, follow @WonderLab on Twitter and Instagram, and follow Jared Katz @museumeduc8or on Twitter.
— Sponsored Content —