This time of year, shoppers often go on spending sprees for holiday gifts and deals too good to pass up. This is a consumeristic society, where buying something can symbolize caring. There is also power in buying: support a specific brand you find politically agreeable or send a message to the world by what type of car you drive. Or maybe even change the world by buying fair trade products.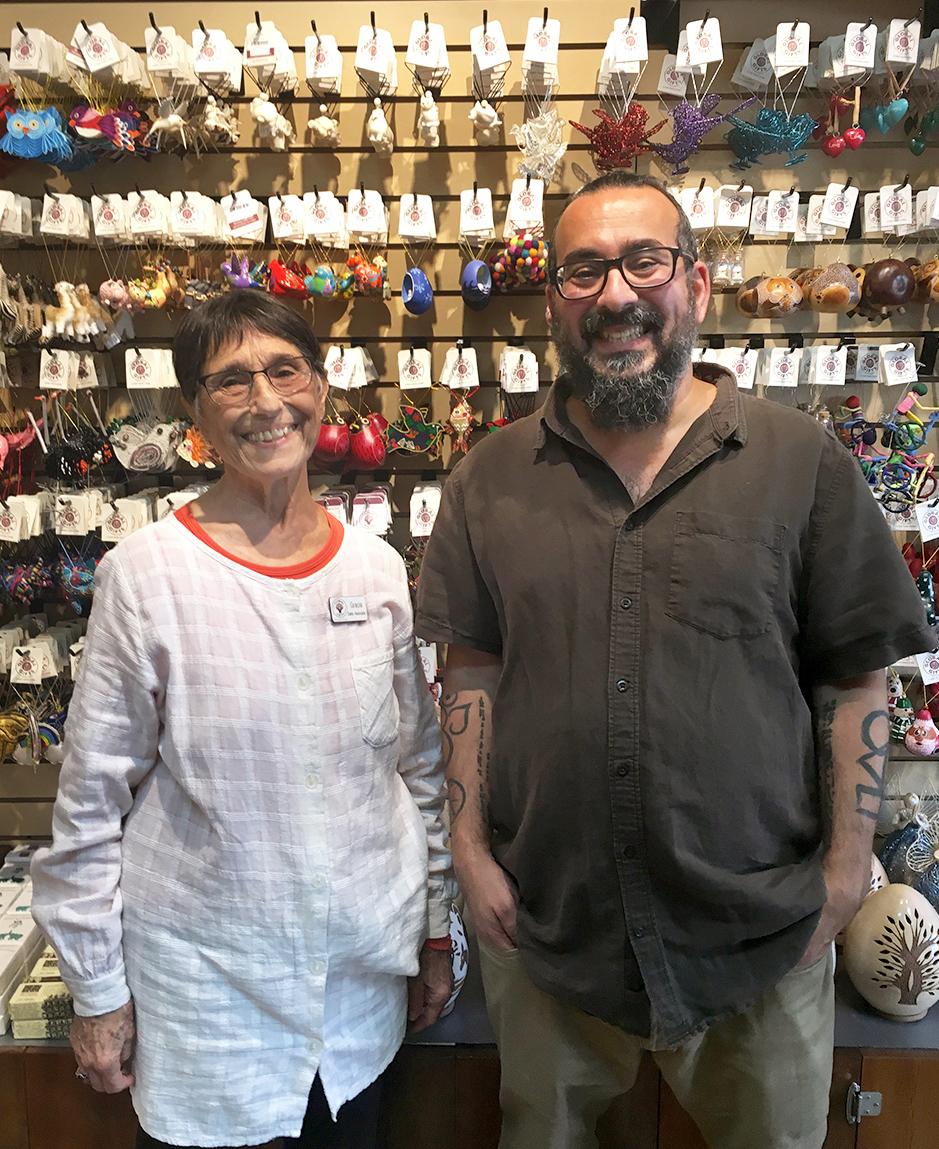 Changing the world by buying something may seem like an exaggeration, but buying goods that are certified fair trade might be one of the most impactful things you can do to help eliminate poverty around the world. And that's just the beginning of the list of social issues that are improved through fair trade purchases. According to Dave Debikey, Store Manager at Global Gifts in Bloomington, "Fair trade supports efforts toward equity, environmental sustainability, and protecting human rights." It's a trifecta of goodness. Fair trade is a grassroots movement that uses an equitable trade system to ensure people and the environment are not exploited. Being verified fair trade means a producer meets numerous criteria that support those efforts; a producer can be verified by either the Fair Trade Federation or the World Fair Trade Organization.
But how does buying a beautiful beaded necklace at Global Gifts translate to improved human and environmental conditions across the globe? In the simplest terms, it's about providing a living wage to artisans. In a developing country, wages can be well below what is required to support a family, particularly for those already living in poverty who have not been able to receive an education or vocational training. It is particularly difficult for women to find fair-paying work. When a product is priced low (what might seem like a great deal to a consumer), it likely means the employees making the product are being paid extremely low wages and prevented from improving their position, a type of slave labor.
Many such people are skilled at making handmade jewelry, accessories, or home goods or can be easily trained. They can create gorgeous jewelry or pottery or clothing, often using traditional materials and techniques that have been used for generations. These artisans, and cooperatives of artisans, can then work with a distribution organization to get their products to larger markets and start creating revenue. "We buy from suppliers who are typically working directly with the artisans," says Debikey. "So, there aren't as many layers of distributors or middlemen that drive up costs. The artisans are paid fairly, we pay a fair price, and our customers pay a fair price."
One supplier that Global Gifts works with is Ten Thousand Villages, a nonprofit that has been around for over 70 years. "We were a pioneer in fair trade, which means we got to frame the standards and ethics that were important to us," says Val Schade, Brand Engagement Coordinator for Ten Thousand Villages. This means emphasizing good working conditions, no child labor, care of the environment, and fair pricing. "Our team works with the artisans to find a price that is fair for them and will allow the product to be marketable in the U.S.," Schade says. "This will look different in each country, and even in each region of the country, but we ensure the artisans are paid fairly."
In some instances, the Ten Thousand Villages team might reject an artisan's first price, because they think it's too low, and counter with a higher price that better meets the living wage or the value of the piece. Sometimes the artisan prices their items too high, and the team will work with them to find more economical ways to produce the item to bring their costs down. "And we pay 50 percent upfront, so the artisans don't have to take on any debt to get started. The other half is paid as soon as we get the product so there's no lag in income," says Schade. "Fair trade is not a handout, it's an equitable and sustainable business model." This is capitalism how it should be, where it's fair to all parties involved.
When the artisans are paid a living wage, they can provide for their families in three important ways: food, shelter, and education. Gracia Valliant, one of just five paid staff members at Global Gifts (the store also relies on a few dozen volunteers to keep costs low and be able to support many artisan groups), has made numerous trips to Guatemala where she has seen the results of fair trade systems. "In one co-op I visited, the grandmothers were showing me how their grandchildren had grown taller than them," Valliant says. "This seems normal to us, but for them, it was a sign that the children had proper nutrition and were fed well." At another village, she was shown the new house of one of the co-op leaders, which featured a concrete floor and indoor plumbing. She explains, "Most homes in the area have dirt floors and no running water, but this artisan was able to afford these amenities because of her fair trade work."
One of the most important and positive results of paying a fair wage is the impact it has had on future generations. "The artisans I talked to were able to send their kids to good schools, and then on to college," says Valliant. "These children got a quality education and will get good jobs, helping to end their family's cycle of poverty." The fact that the children are going to school is also an indication that fair trade helps eliminate child labor. Because the artisans make enough to support the family, children are not forced to work and put at risk of being exploited.
Women are also vulnerable to exploitation in developing countries, including exploitation from sex-trafficking. For women living in poverty in a culture of misogyny, the risk of abuse can be very high. For this reason, one of the core fair trade principles is equity for women. Many fair trade artisans are women working to create a steady income that gives them more opportunities and independence. Sometimes the women are not able to find employment elsewhere, and the fair trade system allows them to own their own business and then employ others.
When women become an equal or more successful earner in a household, it can start to change the culture of that family and community. "I visited an artisan friend in Guatemala, and her husband stated that he spends his days helping his wife with her business," Valliant recalls. "This was a surprising statement, to hear a man basically saying he was behind his wife."
Verified fair trade artisans and organizations must also prioritize environmentally sustainable practices. This can look different for each organization depending on the product they make, but it sets an expectation that whenever possible they will use materials that are sustainable and production techniques that limit the impact on the environment. "When you see an organic label on a food item, that means it was good for the earth," says Debikey. "When you see fair trade, it means it was good for the earth and for people."
The saying goes that money is power, but even the smallest purchases can make a powerful impact. Being more thoughtful about purchases can change the world, or at the very least change the world for one artisan. Global Gifts makes it easy to be a conscientious consumer, with beautiful jewelry, accessories, and home goods at fair prices, of course. "We have over 2,000 items, and we rotate our inventory seasonally and as trends change," says Debikey. "The more we sell, the more the artisans make, and the bigger the impact on their lives."
Global Gifts is located at 122 N. Walnut St., and they are open Monday through Saturday from 10:30 a.m. to 8 p.m., and Sunday from 11 a.m. to 5 p.m. Ask about their Country Card program, where you can receive 20% off a single item after purchasing handcrafted items from five different countries. You can find more information about the store, its products, and volunteer opportunities at www.globalgiftsft.com.