If you screw up, you're dead. That's the most important thing to know, I'm told. If you forget to pack extra lights, if your air tanks aren't adequately filled, if you get caught in a passage and can't move, if anything goes wrong and you aren't prepared — it won't end well.
Cave diving is commonly associated with the sunny, tropical climates of South and Central America. But there's a small subset of divers who forgo the open chasms and clear blue waters of the Yucatan peninsula. They choose to explore the dark, narrow, and unmapped caverns of southern Indiana.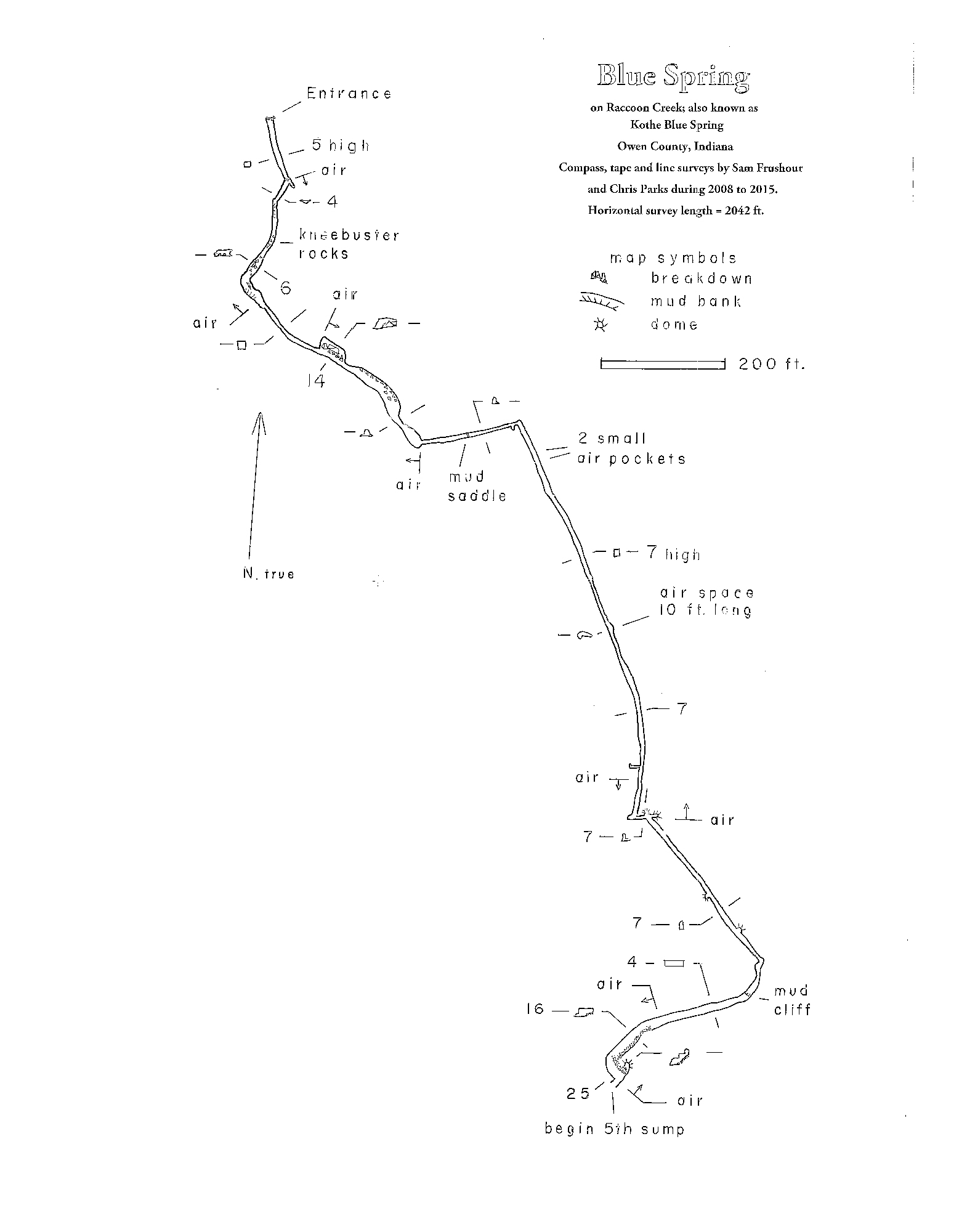 The dangers of cave diving are very real, as demonstrated by a recent incident in Thailand that made international headlines. A dozen boys and their soccer coach were exploring a cave on foot when spring rains trapped them inside for days. One Thai Navy Seal, a veteran diver, lost his life attempting to rescue the children.
While that situation was significantly different from recreational cave diving, the dangers of traversing Indiana's caves should not be underestimated.
Samuel Frushour is one of the few who cave dive in Indiana. Frushour and his peers have spent countless hours diving in our state's murky, flooded caverns. Together, they've mapped seemingly endless miles of aquatic caves in the southern Indiana region.
Frushour's maps, which fill at least a dozen filing-cabinet drawers in his basement workshop, are laid out with the attention to detail you would expect from a man who spent decades as a researcher with the Indiana Geological and Water Survey at IU. Even though he's officially retired, he still works with the Geological Survey part time, creating a database of freshwater springs in southern Indiana. Mapping and exploring Indiana's aquatic caves is something he just chooses to do in his spare time.
Frushour is in his 70s and around five-foot-eight. He has a full beard that has gone almost completely gray. He does not look like the kind of person you would expect to lug more than 100 pounds of gear into narrow, flooded passageways below the earth's surface. But looks can be deceiving.
This is not a young man's sport, Frushour explains, which is why so many who partake in it are older and retired. Frushour has been cave diving for more than 20 years, and caving in general for more than 50 years, so he's had plenty of time to learn the safest practices. He says the attention to detail and careful planning aren't that appealing to 20-year-olds.
"You don't violate the rules," he says, referring to the many safety concerns involved with cave diving. "And kids do. Now, in Indiana, we've not had people die cave diving. But in Tennessee and in Florida — especially in Florida — it used to be they'd lose dozens a year because kids would go swimming off into a spring and, in many cases, they'd never come back. Your mindset needs to be very mature."
Cave divers use ropes, which they wrap around PVC pipes staked into the cave floor, to help determine the length and general shapes of the caves. The ropes, which also serve as a guiding line back to the entrance of the cave, are marked every couple of feet to help give an exact determination of how far the divers have swum. They also use compasses to help determine which direction they're going, because the low visibility can become disorienting.
This simple, yet effective, system is used to help sketch the general shape of the caverns onto waterproof boards the divers take into the caves. A significant portion of the mapping is done in real-time, as they traverse the underwater systems.
"Mapping these [caves] is not haphazard at all," Frushour says of the process.
From beginning to end, cave diving requires an obsessive attention to detail. Divers pack triplicates of everything. Once in the water, Frushour says divers must take a number of precautions just to be able to see. If a diver doesn't use special finning techniques, for example, the fins will stir up silt and cut visibility down to the point where you're basically blind. Divers even have to manage their breathing and speed through the cave to keep the water as clear as possible. "The bubbles from your respirator can loosen silt and clay attached to the ceiling, which will destroy visibility," Frushour says. "The idea is not to be in one place any longer than necessary to preserve visibility."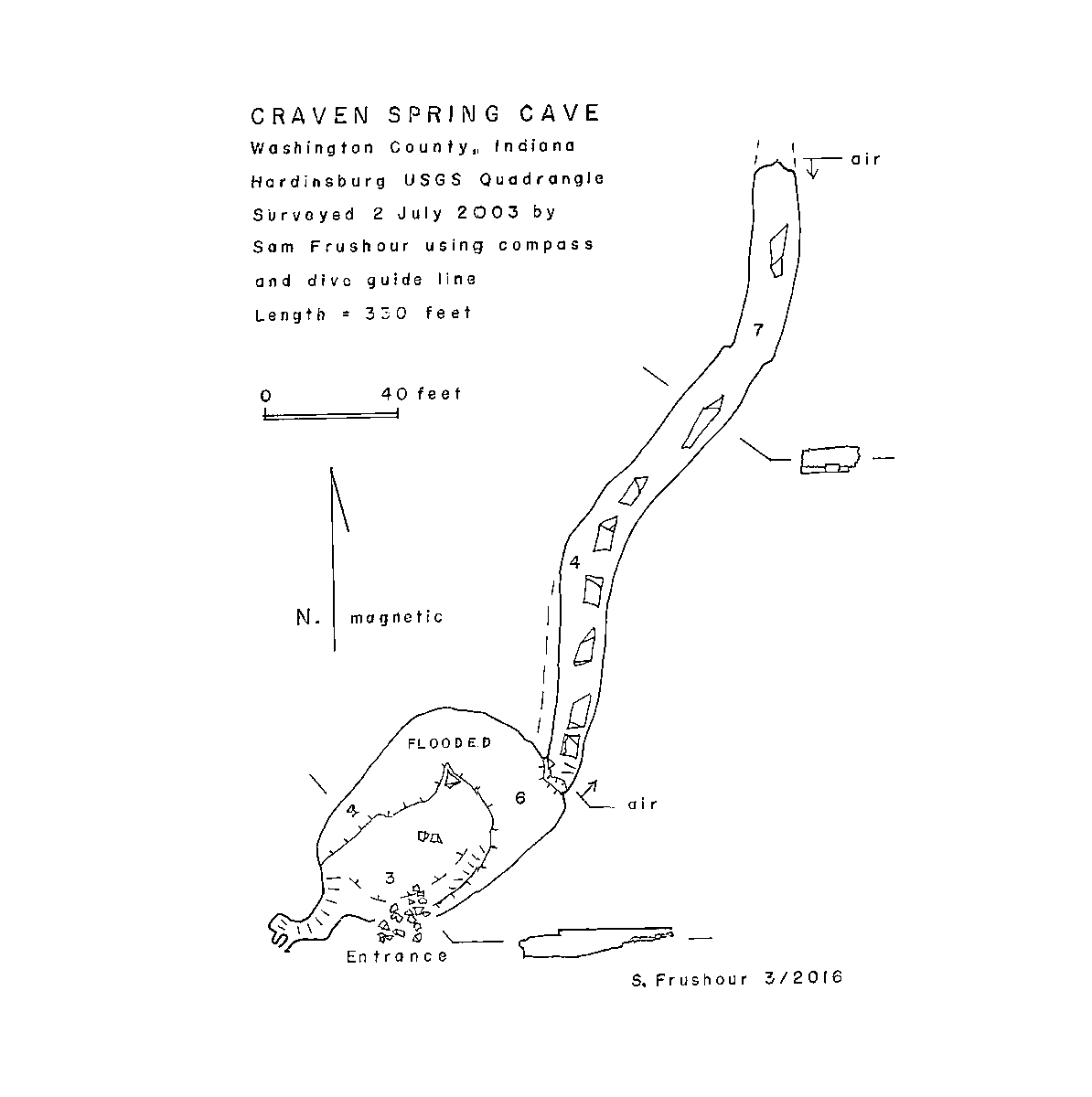 Even with precautions, the best visibility you can hope for is 20 feet with ideal conditions. Your real visibility is much more likely to be around five to ten feet in any direction.
Winter can be a good time to dive if you're looking for high visibility. The water in a cave is the same temperature (the mid-50s) as the surrounding bedrock year-round, so you won't freeze. But often the entrances to the caves are frozen, so that typically rules out the months of November through March.
Cave divers also try to avoid times of year when there's a lot of temperature changes and rainfall. Spring rains can flood the caverns and cause particulate to get kicked up, meaning March through May is probably the worst time to dive, Frushour says.
After the spring rains, generally June through October, is when diving season really begins.
These heavy spring rains and resulting low visibility are part of what made the Thai rescue operation so difficult. During the rescue attempt, the 12 trapped boys were escorted by rescue divers through two miles of near complete darkness caused by the high levels of silt in the water. While spring rains in the midwest may not compare to the heavy rains Southeast Asia is known for, the high silt levels can still cause issues.
These are just some of the factors to take into consideration while cave diving, and only part of what makes the activity so dangerous. According to Frushour, Indiana rescue divers don't have the specialized training or gear to handle the low visibility and tight spaces. Your diving partners can only do so much to help you before they end up putting themselves at risk. In truly dangerous situations, it's up to you to save yourself.
When you're cave diving, it's just you and a couple of partners. Even with a group, however, the activity can feel isolating. You're somewhere, in all likelihood, few humans have ever been before. At least from Frushour's point of view, that adventure is part of the draw. It's the chance to be an explorer in a world where the edges of the maps are filled in more and more every day.
[Editor's note: As mentioned in this piece, cave diving can be an incredibly dangerous activity. Never go alone and always go with someone who has plenty of diving experience. Cave diving is far different from open water diving, and it requires unique skills and gear. If you are interested in learning how to cave dive, the Bloomington branch of the National Speleological Society can help you get started.]