Bloomington is changing right before our eyes. Amid this ceaseless development, I implore you to take a moment and consider what is to be lost.
Reminders of our more rural past, old barns are a dime a dozen in southern Indiana. Here in Bloomington, there are the Hinkle-Garton Farmstead on East 10th Street and a spectacular trio of barns off North Arlington Road. These old barns have a story to tell.
Duncan Campbell, a historic preservationist and folklorist who has lived in Bloomington since 1986, enlightened me to the rich narrative these barns can tell us. His Civil War-era barn on Bloomington's southwest side bleeds history.
Built in the 1860s by the Borland family, a prominent land-owning family from Bloomington's early days, the barn suffered dramatically in the hands of a quarry company that cut out sections of the frame to make way for its machines. Its structure mutilated, the barn had all but collapsed before Campbell restored it in 2010. Now stands a beautiful piece of preserved history, a time capsule telling one of southern Indiana's many stories. The carpenters who built the barn left notes and measurements, called "scribes," on its beams — quite literally a record, available still.
The Borland barn is a threshing barn that was used for processing wheat. The barn has big doors on both long sides, creating a breezeway to suck out the chaff. Their barn is built in an English-style that can be traced back to western Pennsylvania, and even further back to 16th- and 17th-century Scotland, according to Campbell. Up in northern Indiana, English-style barns are almost nowhere to be found. Instead, we see an abundance of German- and Dutch-style barns, identifiable by the absence of doors on the long sides. By this simple distinction, we are able to gain a better understanding of the Borlands' path to Bloomington.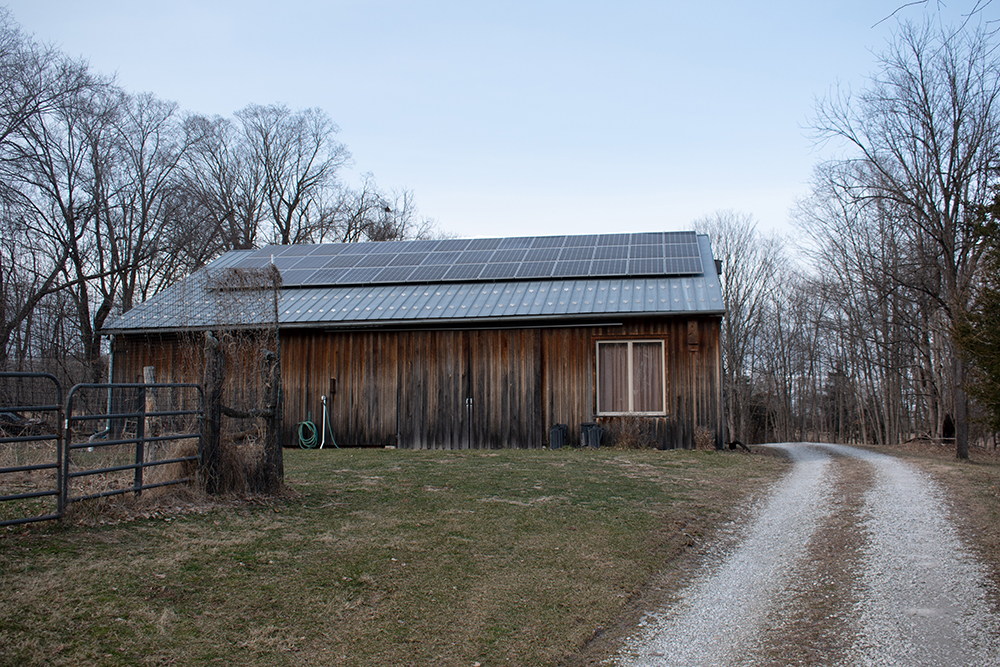 The Borland story begins at the end of the 18th century. After most Native Americans were brutally forced out of the state, Easterners moved in. Enter two enterprising brothers, James and Edward Borland of western Pennsylvania. Born in Pennsylvania in the 1780s, the Borland brothers were likely the children of Scots-Irish immigrants. Western Pennsylvania was a haven for these intrepid folks in the 1700s.
The two brothers came to Indiana as most pioneers did, in search of prosperity. We are quick to connote "pioneers" to images of buckskin-clad men with axes over their shoulders. Once the frontier of American expansion, Indiana no doubt saw its share of rough-and-tumble pioneers in those early days, but Indiana is a bountiful land and it attracted more than your stereotypical pioneers from the East. The Indiana Territory's transition to statehood in 1816 opened undeveloped land ripe for profit — attracting the hungry eyes of entrepreneurial Easterners. In his Indiana University essay "From Borderlander to Borland: The Borland Family in Indiana, 1816-1930," Campbell uncovers the story of the Borland family. The Borlands arrived as early as 1816 more likely clad in "frock coats and derbies, than buckskins and coonskin caps." Aptly called "frock coat pioneers" by Campbell, men like the Borlands, simply put, came to Indiana to make a buck.
James Borland, a surveyor by trade, arrived in Indiana in 1816. At 28 years old, he began buying tracts of land in what is now Van Buren and Richland townships on Bloomington's west side. This was just the start of James's career. His younger brother, Edward, soon followed, arriving in Indiana in 1818 or 1819. Edward, a skilled carpenter, joined his brother in developing a growing Bloomington. By 1821, James had been named by the Trustees of the State Seminary as the commissioner responsible, according to Campbell's essay, "for purchasing and selling lands within the Seminary Township, from which the State Seminary gained its support" — the State Seminary being the ancestor of present-day Indiana University. (Federal law at the time mandated that new states set aside land "for the establishment of a Seminary of Learning." In Indiana, what is now Perry Township in Monroe County, was designated as the Seminary Township.) James held charge over more than half of Bloomington's available real estate and, in his role as the Seminary commissioner, played a pivotal part in the founding of Indiana University in its first home, what is now Seminary Park.
Edward joined his brother in land speculation and continued to ply his trade. The two brothers no doubt worked closely together. In fact, Edward worked on the first Seminary buildings and would later play a role in the Seminary's transition to Indiana College through his position on the Board of Trustees in the mid-1820s.
By 1830, the Borlands had amassed enough wealth and land to settle into a level of comfort afforded only to the most affluent families. They were quite aware of the prevailing styles of the time, as expected of a family eager to make their prominence known. Edward built a magnificent I-frame brick house with a "Federal façade and Greek Revival interior" on his property off of Rockport Road, where it still stands today, thanks to Campbell's attentive hands. The only other brick buildings in Bloomington at the time were the courthouse and the State Seminary buildings — all of which Edward had helped build. Brick construction required a great deal of capital and spoke to a building's prominence and, perhaps even more so, its permanence. Likely, the Borlands had this in mind when they built their home from brick rather than wood, as if to say, "We are here to stay."
And stay they did. Gladys Borland, the last of the Borland name, did not pass away until the 1990s, according to Campbell's essay on the family. Though their family name went with Gladys's passing, and though Borland doesn't show up in local road or building names, their presence is still very much part of Bloomington's story. Indiana University was made a reality largely because of the Borlands, and, indeed, the streets we walk were likely once owned by one of Bloomington's first First Families.
Few other barns have had the care the Borland family's received, and many are in grim condition, if they're even still around. With each disappearance, often goes its story. Look at them not as just old buildings but as pieces of material culture vital to Bloomington's history. It is strange though, that this once prominent family has fallen so far out of commonly known history. They left behind little other than their barn, but I encourage you to see it is as much more than a barn. The Borland family's barn is a part of their legacy and thanks to people like Duncan Campbell, that legacy survives to this day.