Ninety minutes onstage. Four actors. Three scenes. One set. For a play of seemingly simple construction, Indiana University's production of The Goat, or Who is Sylvia? by Edward Albee elicits an intense emotional and physical reaction from its audience.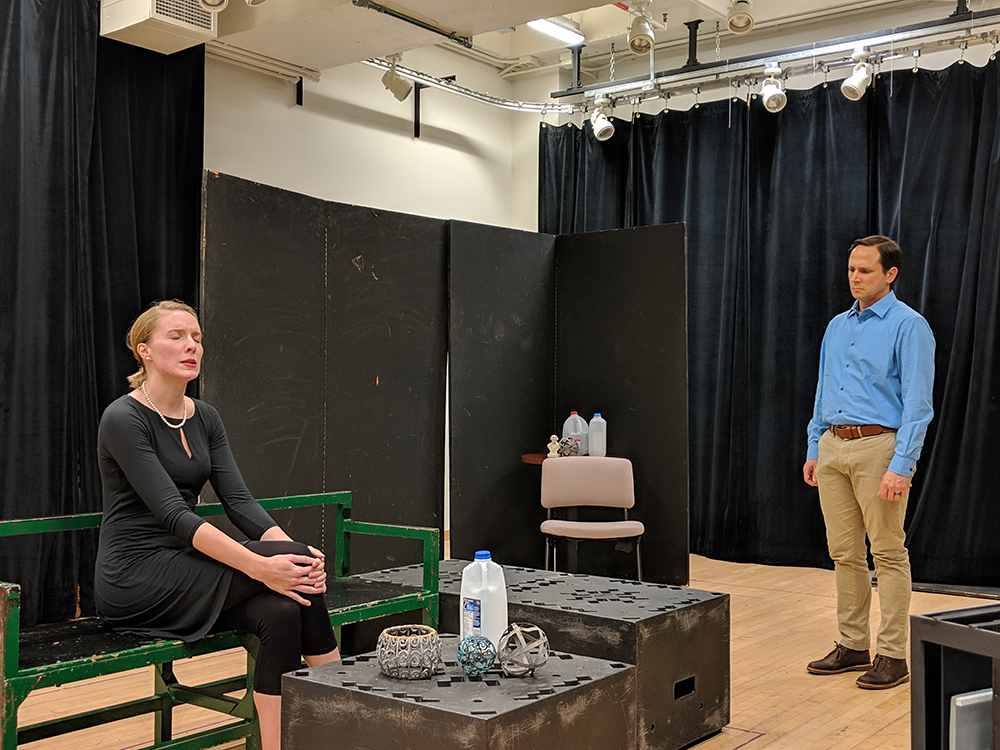 In this 2002 Tony Award-winner for best play, Albee weaves humor and tragedy into an intimate portrayal of a perfect American family's destruction. Yet even Albee's tightly constructed script needs actors with the bravery and commitment to bring the story to life. The strength of IU's production of The Goat lies in the intimate, funny, and heartrending portrayals created by the small cast.
A few weeks ago, I watched the first full run-through of the production without scripts. Sure, the rehearsal was in a classroom instead of onstage, used stand-in props like empty milk jugs for vases, and had an occasional missed line, but none of that mattered. The acting captivated me even in that unfinished state.
Martin Gray (Jay Hemphill) is an award-winning architect at the pinnacle of his career. He and his beloved wife, Stevie (Glynnis Kunkel-Ruiz), have created the perfect life with the perfect family, which includes their teenage son, Billy (Josh Hogan). To celebrate Martin's impending 50th birthday, his best friend Ross Tuttle (Michael Bayler) interviews Martin for his news program. Seeing that he is distracted, Ross urges him to reveal his secret. Ross then informs Stevie in a letter: "Martin is having an affair with a certain Sylvia, who I'm mortified to tell you is … a goat," a revelation that destroys all involved.
With discussion of bestiality and other controversial topics, The Goat is a difficult play for both directors and actors. According to director Murray McGibbon, bringing this play to life has been "an exciting, fun process, but it's been more exhausting and tiring than anything I have ever done." McGibbon warned the actors early on, this "is not a play where you can just come and say your lines and go home; you have to bring your whole spirit with you into the rehearsal room" and subsequently onto the stage. It "is a play in which your hearts and your souls are going to co-mingle. It's got to be so authentic, so real, that it will sear into your heart."
As Martin, Hemphill has an intensely emotional journey to navigate. The biggest challenge, he says, is that there is "a very fine line where [the play] can become satirical or absurdist" because the situation is so absurd. It's important, he says, "to be sincere, and believe in Martin's situation wholly and embrace it, and be open enough to take that journey with him." Hemphill believes that's the only way the audience is going to see the truth and depth of not only Martin's journey, but the whole family's journey.
So how does an actor prepare for a role like this? Hemphill, Kunkel-Ruiz, and Bayler — who are all second-year MFA students — rely on their training. During their first semester, all three took a course on the acting techniques of Sanford Meisner. "The Meisner method," explains Bayler, "emphasizes living truthfully under imaginary circumstances by living moment to moment and allowing the circumstances of the play to affect us." Preparation helps, but as Hogan explains, "The scene is going to go where it's going to go, and that's the terrifying thing about acting in general." The whole experience takes a huge amount of vulnerability and trust.
Vulnerability and trust — those words echoed throughout my conversations with the cast and crew of The Goat. It's no wonder, then, that exercises in intimacy and individual check-ins feature in each and every rehearsal. To prepare himself for the intimacy of certain scenes, Hogan and his fellow cast members check in with one another. "It's nice that we have a small cast," he says, "because we have to make sure that everyone is all right with what we have to get through that day. For example, Jay and I have a little code word to make sure that we are feeling okay, and that we want to run through everything." This kind of scene negotiation adds an element of trust and consent to the process.
Despite — or maybe because of — the emotional intensity of the play, the experience has been one of the most exhilarating for the cast. According to Kunkel-Ruiz, "This play is a lot of fun because it's very different from other roles I've played. I'm a mother and wife ripped down to the rawest nerve, and nowhere in life do I get to have this visceral a reaction, and nowhere in life is it acceptable to start throwing things." How does she know? "Fun fact," she admits, laughing, "my neighbors have come over at least once to ask, 'Is everything all right,' while I'm running lines for this show."
For actors Hemphill, Kunkel-Ruiz, Bayler, and Hogan, the process of bringing Albee's play to the stage has been emotional but liberating, allowing the actors to embrace raw emotions that are only accessible in the most extreme of circumstances. For the audience, The Goat inspires a flurry of emotions — love, betrayal, disgust, pity, and delight — that they will feel on a visceral level. Does this mean they will adore the play as much as I do and want to see it again and again? Maybe not. Albee's the type of playwright people either love or hate. There is not much middle ground. Love or hate, what I can promise is that The Goat is an intense theatrical experience that will move and challenge audiences to examine the nature of love, morality, and tragedy.
Indiana University's production of The Goat, or Who is Sylvia? opens Friday, November 30, and runs through Sunday, December 8. For more information or to buy tickets, visit IU theater's current season website. The Goat, or Who is Sylvia? is part of this year's IU College of Arts and Sciences Themester on the topic Animal/Human.