Back in town last summer after a long trip, I spotted a poster for the new weekly Call & Response jazz event that drummer Ben Lumsdaine had just started at Blockhouse Bar. It seemed like a good way to ease back into checking out live music in Bloomington again, so I gave it a try in mid-July. As the first set kicked in, I knew I'd found a new place to be on Wednesday nights.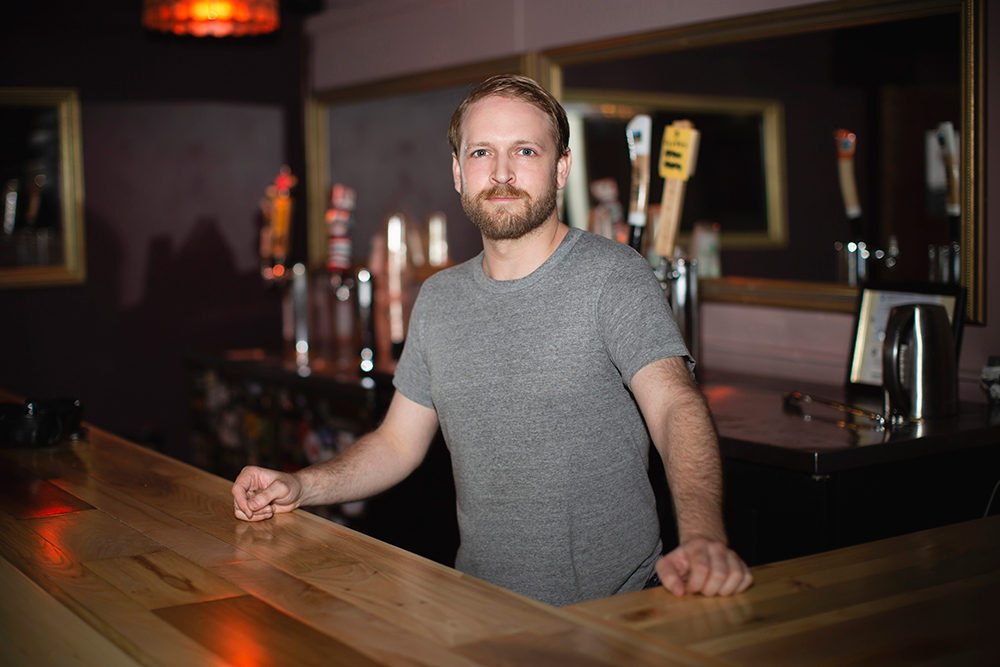 There was an organic chemistry of musical traction at work between the players on the set. And the keen ears of jazz fans leaning in heard the signal. In a solid 20-minute medley of three pieces, I heard intricate post-bop, skittering impressionism, gentle melodies, solid grooves, left turns, insightful solos, and creative segues. Over the next few weeks it settled in to me that the music presented each week was a mix of jazz standards by Herbie Hancock, Thelonious Monk, Joe Henderson, Duke Ellington, Hoagy Carmichael, and others, along with an impressive stream of originals composed by members of the Call & Response House Band and guest players.
In the year since, the band Lumsdaine formed for the series has welcomed many guest soloists, as well as regional and national jazz artists on tour. In February, Call & Response collaborated with Indiana University's MFA Creative Writing program on a month of spoken word performances. And the band has released its first album, produced and engineered at Russian Recording by Lumsdaine.
David James is co-owner of Blockhouse, and, as the bartender on Wednesday nights, he says Call & Response "has become a centerpiece of live music at Blockhouse Bar, an anchor for us that has offered a way to rally around consistency in a chaotic world. … Bloomington is a unique place, and with the Jacobs School our audiences have the opportunity to hear world-class musicians alongside talented up-and-comers. … So now we look forward to every Wednesday, because Wednesday is jazz night."
As fall approaches, key members of the Call & Response House Band, Evan Main on piano and Philip Wailes on bass, are leaving for New York City. The newly formed C&R New Quartet — Lumsdaine on drums, Barclay Moffitt on tenor sax (who has played with the C&R House Band on numerous occasions), and IU Jacobs School of Music faculty members John Raymond on trumpet and Jeremy Allen (a Bloomington native) on bass — debuts at Blockhouse Bar on July 25.
Lumsdaine is a busy guy beyond Call & Response — drumming on tours with Kevin Krauter and Diane Coffee, playing lead guitar and singing in the local rock band Spissy, producing and engineering at Russian Recording. Being steeped in jazz studies in high school at Bloomington North, under the direction of Janis Stockhouse, then earning a jazz performance degree from the Jacobs School, Lumsdaine, 26, is now starting to make things happen.
I recently spoke with Lumsdaine about Call & Response and Bloomington's jazz scene.
JM: What was your motivation to start a weekly jazz series?
Ben: I had been playing every Wednesday up in Indianapolis. I was feeling a little burned on the drive, and a little bit burned on playing at a bar where people weren't listening because the music wasn't the point of the night. Bloomington has a really cool music scene, but frankly, there aren't a lot of jazz gigs happening besides David Miller's thing [Jazz Fables] at Bear's Place. So I thought I should make something happen in Bloomington and make it the kind of gig I would want to play. I was ready to bail on that weekly drive to Indianapolis, but I wasn't ready to not play anymore.
But the real impetus was that Walter Smith III moved here to teach at IU, and I had no idea how to play with him besides setting up a gig — if you want to know the truth, that's it. We had played together a few times at my house and got together at the school with what became the house band — Matt Setzler, me, Evan Main, and Philip Wailes. I felt inspired because I hadn't been playing with people at that level for a long time. I had to make something happen so we had an excuse to play every week.
JM: Do you see a difference between Call & Response at Blockhouse and Jazz Fables at Bear's?
Ben: I think it's been cool that David Miller has come out to pretty much all my gigs and has been super supportive and offering advice. The audience is a bit different at Blockhouse, which I'm kind of surprised at, actually. A little bit younger and everyone is there to listen. Not that that doesn't happen at Bear's Place, but we have a very attentive audience.
JM: To me it seems like Call & Response is more like an ongoing jazz workshop, whereas Jazz Fables presents a wide variety of bands and themes, each week having a different artist focus and musical bag. With the C&R House Band, you have resident players with guests sitting in most weeks. That brings open spontaneity into a regular musical zone of fresh and exciting modern jazz.
Ben: Yeah, I think we can get pretty loose at Blockhouse without freaking anyone out. Those are my favorite moments of the set.
JM: Let's talk about the individual musicians — the core group has been you on drums, Evan Main on piano, and Philip Wailes on bass.
Ben: Both those guys actually grew up in Bloomington and went to North.
JM: Really? Wow, such a deep Bloomington North connection between the three of you.
Ben: They're a little bit younger than me. I knew who they were, but we weren't really playing until last year, which now I'm recognizing as a waste. We could've been getting a lot done.
JM: They seem to be on the set more often than anyone else over the last year. Once I really started listening to Evan play last summer, I realized he gets in a very intuitive space — the way he connects it all as he plays. And his eyes are closed most of the time. How do you look at his playing in terms of how he feels it, and where he goes with it?
Ben: I always feel like if a tune is not going well and we get to Evan's solo, that's where it usually turns around. He has such concise ideas and brings a lot of energy. He can really lift things up. He has really surprised me pretty often. One of the cool things about this gig is that there's so much freedom, we can all take a lot of risks. That has let Evan feel able to try stuff out.
JM: There's also been a transition in piano sound since the club got use of a baby grand piano and he stopped playing electric. Now, except for the bass amp, it's pure acoustic sound in the room.
Ben: That's the BTown Jazz piano, presently on loan to the club. John Raymond at IU and David James at Blockhouse helped get that in motion. It took some getting used to for me, but I think it sounds pretty cool.
JM: Philip Wailes on bass — it always seems to get real quiet in the room when he takes his solos.
Ben: That's something I love, because normally when it's time for the bass solo, everyone starts talking again because they can hear themselves.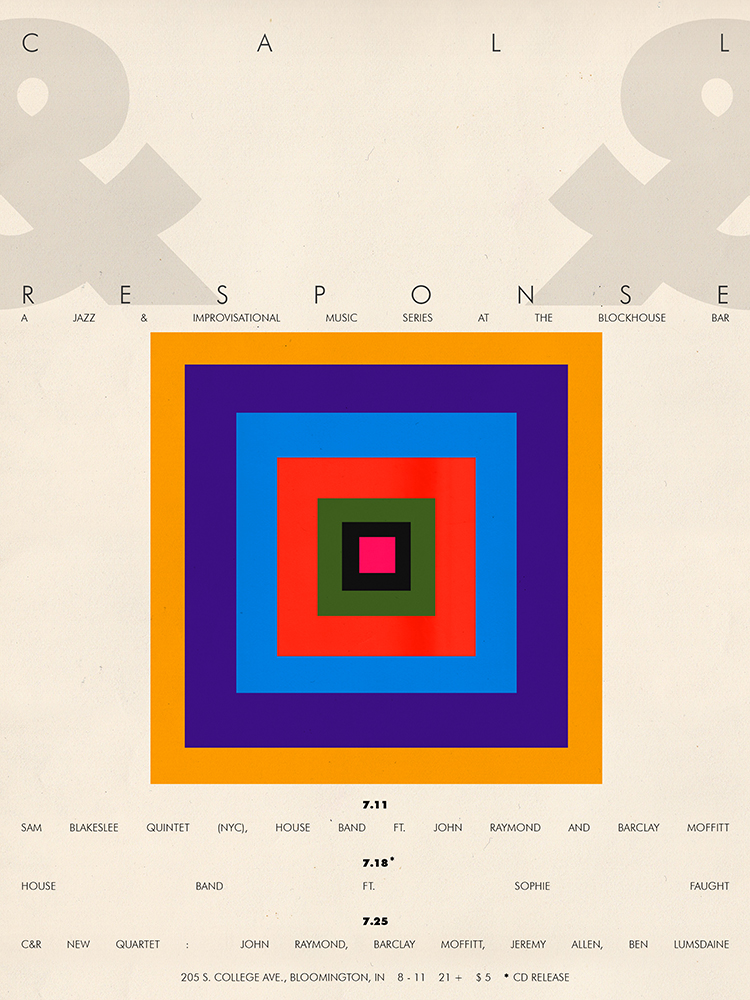 JM: You do a lot of original compositions, and more often than not they are Philip's.
Ben: Yeah, he's been writing a ton. His tunes are so great.
JM: There was a long stretch there when you regularly had two sax players.
Ben: Yeah, Walter Smith III on tenor and Matt Setzler on alto. Matt was kind of the core of the house band when we started out last summer — we did a lot of his tunes. He's in New York now. Recently, we've been featuring Barclay Moffitt on tenor and Connor Evans on guitar. We've also had Sophie Faught on tenor quite a few times.
JM: Besides creating a new setting for live jazz, you also started Call & Response as a way to pool funds for booking touring artists. How's that going?
Ben: We've been able to bring in the Eric Harlan Quintet, Rude Unkal, Duet for Theremin and Lap Steel, Phil Schurger Quartet, Concurrence, Heart of the Ghost, and we have a lot of great stuff coming soon.
JM: One of the things that really hooked me into Call & Response last summer was that you did a lot of originals, but I also heard many jazz standards. There's a fresh approach, but also a universal sound at work. I'm guessing that goes all the way back to learning about jazz at North.
Ben: A big part of playing the music is understanding its history and tradition.
JM: That attitude comes through your use of strong graphics for your posters, too.
Ben: The poster design that Aaron Denton does each month is a real important part of it. It's a pretty crucial thing. It just ties it all together. There's a long tradition of great jazz records having amazing covers. They don't really anymore, but it was the best stuff ever and I think it's a shame that tradition has been lost. Old jazz records on Columbia, or Impulse, or Blue Note still look so good.
JM: How have co-owners David James and Drake Ritter at Blockhouse helped with Call & Response?
Ben: It makes sense to be there because I think the spot is really cool. The vibe down there is really interesting. I've been friends with them for a while. They've been super supportive. I think it's a mutually beneficial situation because I'm bringing in people on what could otherwise be a slow night and I get this space to do whatever I want.
As co-owner James says, "I've had the pleasure of bartending most every Wednesday for the past year to hear their musical relationships build." The new group of musicians will experiment with their own organic chemistry in the coming months. And the keen ears of jazz fans might hear the signal.